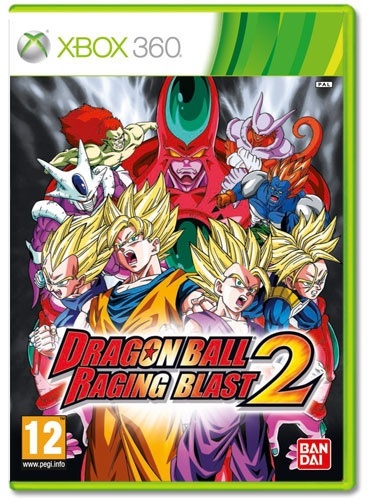 Dragon Ball: Raging Blast 2 (ドラゴンボール レイジングブラスト2, Doragon Bōru Reijingu Burasuto Tsū) is the upcoming 2010 sequel to the 2009 game, Dragon Ball: Raging Blast. It has been announced for the PlayStation 3 and the Xbox 360 consoles[1]. Namco Bandai and Spike. The game will release November 11th for Japan, and sometime in November for America, Europe and Australia.
DevelopmentFirst announced on May 3rd, 2010 in the Weekly Shonen Jump, Dragon Ball: Raging Blast 2 will be sporting over 100 characters, 20 of which are brand new to the Raging Blast series and 6 new to any Dragon Ball video game, new modes, and additional environmental effects have also been confirmed. [2]
GameplayAccording to Namco Bandai's producer Ryo Mito, gameplay will take a very similar approach to that of it's predecessor. [3] Destructible environments, and character trademark attacks and transformations will return and be true to the series. These include signature "Pursuit Attacks" which enable players to initiate attack combo strings, juggling the opponent in a string of devastating strikes throughout the environment. Additionally, Raging Blast 2 will sport the new Raging Soul System which enables characters to reach a special state, increasing their combat abilities to the ultimate level. Namco Bandai Games America has announced on their Raging Blast 2's story mode will be named "Galaxy Mode".
Confirmed CharactersThe following are the characters that are confirmed thus far[4][5][6][7]:
Goku (Base, Super Saiyan, Super Saiyan 2, Super Saiyan 3)
Vegeta (Base, Super Saiyan)
Vegeta (Super Saiyan 3)
Vegeta (Scouter)
Majin Vegeta
Vegito (Super Vegito)
Super Gogeta
Teen Gohan (Base, Super Saiyan 2)
Future Gohan (Base*, Super Saiyan*)
Future Trunks (Base, Super Saiyan)
Gotenks (Super Saiyan 3)
Piccolo
Krillin
Tien
Yamcha
Nail*
Pikkon*
Bardock
Raditz
Dodoria
Zarbon
Jeice
Captain Ginyu
Frieza (1st Form, Final Form, 100% Power)
Android 16
Android 17
Android 18
Android 19
Dr. Gero
Cell (Semi-Perfect Form, Perfect Form, Super Perfect Form)
Dabura*
Majin Buu
Super Buu (Base)
Kid Buu
Turles*
Cooler (4th Form*, 5th Form*)
Super Android 13*
Broly (Legendary Super Saiyan)
Broly (Super Saiyan 3)
Zangya*
Bojack (Base*, Full-Power Form*)
Super Janemba*
Hatchiyack(Base**)
* Indicates that this character is one of the 20 characters new to the Raging Blast series (excludes six characters never-before-seen in a DB game).
** Indicates that this character is one of the six characters who are new to any Dragon Ball video game.
Confirmed Venues
Kami's Lookout
Planet Namek
Rocky Area
Ruined City
Break Wasteland
Cave
Cell Games Arena (Destroyed)
Islands
Hell
Dying Planet Namek
Unnamed Ice stage
Dark Planet
Dragon Ball: Plan to Eradicate Super Saiyans
A sample of the 2010 reanimated OVA.On August 10th, 2010, Namco Bandai announced a completely reconstructed, re-scripted, and re-edited version of an original Japanese OVA that has never been released in North America or Europe. Known as Dragon Ball Z Gaiden: Saiyajin Zetsumetsu Keikaku (lit. Dragon Ball Z Side Story: Plan to Eradicate the Saiyans) in Japan, this OVA was released on VHS in two parts, and was an "Official Visual Guide" for a Famicom game of the same name. The footage from the OVA was put into two games for Bandai's Playdia. In 2003, it was put onto DVD and released with the Dragon Box. This new version will be completely reanimated and voiced in English. Every copy of Raging Blast 2 will come with this 30 minute animation on the game disc. For the first time, the characters Dr. Raichi and Hatchiyack will be voiced in English. Hatchiyack's original Japanese name is "Hatchihyaku", and was revealed to have been changed. It is unknown if Dr. Raichi's will change as well.
Developer(s) Spike
Publisher(s) Namco Bandai
Release date(s) November 2010 USA
November 11, 2010 JPN
November 2010 EU
November 2010 AU
Genre(s) Versus fighting
Mode(s)
-Single-player
-Multiplayer
-Online multiplayer
Platform(s) -
Xbox 360
-PlayStation 3